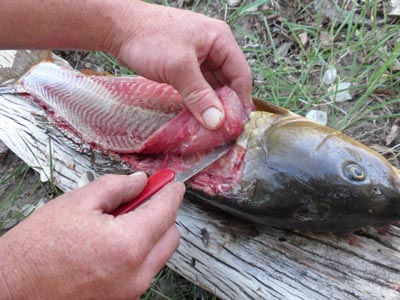 "There were literally thousands of carp milling about in the shallow waters, willows, and reeds along the lakeshore. With the early spring runoff this year, the reservoir was several feet higher than it would normally be by the beginning of June, flooding the mudflats with just enough water to turn it into Carp Mecca. It was every hunter-gatherers greatest dream. We were practically tripping over them as we waded around in the shallow waters! Hunter-gatherer bands often congregated to similar events, coming together at a central point and time to take advantage of an inexhaustible food supply. It would have been a time for celebration, feasting, and an opportunity to mingle and marry between bands."
--Thomas J. Elpel
Carp Hunting the Upper Missouri
Green University® LLC
2017 Event Schedule
Workshops, Intensives, Walkabouts, and Canoe Trips
Would you like to take a class from Green University® LLC, yet don't have the time to commit to an extended internship experience? We host a limited number of dedicated workshops and intensive programs each year, as well as free, public walkabouts and canoe trips. The workshops and intensives are a great way to dive into a specific, focused skill area, such as animal processing, hide tanning, plant identification and foraging, or working with kids. Read about and register for these classes following the links below, or consider joining our internship program. The monthly or yearly internship fee covers admission to any classes you want to attend during your stay. Scroll down the page for information on individual classes and how to join our walkabouts and canoe trips.
Upcoming Workshops, Classes, Intensives, and Adventures

| | |
| --- | --- |
| Dates | Description |
| April 13 - 22, 2017 | Bison Tanning Class |
| April 23 - 29, 2017 | Braintan Buckskin Hide Tanning |
| May 1 - 31, 2017 | Outdoor Education and Basic Skills Intensive |
| June 1 - 7, 2017 | Upper Missouri Canoe Trip and Carp Hunting |
| June 21 - 25, 2017 | Jefferson River Canoe Trip |
| July 9 -15, 2017 | Wild Fruits Rendezvous |
| July 21, 2017 | Yellowstone River Canoe Float |
| September 2 - 4, 2017 | OWLS Summer Camp |
| September 20 - 30, 2017 | Wild Rice Harvesting |
| Oct. 15 - Dec. 15, 2017 | Fall Harvest and Celebration of the Deer |
| Ongoing | More Canoe Trips and Adventures |
| Ongoing | Green University Internships |
| Tom Elpel is also teaching at: | Permaculture Design Course - Missoula, MT |
| Tom Elpel is also teaching at: | Botannicals - Spokane, WA |
| Also Related | Plant Talk Botany Discussion Group |
---
Plant Talk: Botany in a Day Online Discussion Group with Marc Williams


Join ethnobotanist Marc Williams for the annual Botany in a Day online discussion group, carrying on the tradition started by the late Frank Cook. Starting in May, Marc will guide participants through lessons every other week for nine months. It is an excellent way to keep on track with your botany studies. For more information, please go to www.BotanyEveryDay.com

Marc Williams is an ethnobiologist. He has studied the people, plant, mushroom, microbe interconnection intensively while learning to employ the different kingdoms of biology for food, medicine, and beauty. His training includes a Bachelor's degree in Environmental Studies concentrating in Sustainable Agriculture with a minor in Business from Warren Wilson College and a Master's degree in Appalachian Studies concentrating in Sustainable Development with a minor in Geography and Planning from Appalachian State University. He has spent over 15 years working at a multitude of restaurants and various farms. His travels include adventures through 24 countries in North/Central America and Europe and all 50 of the United States. Marc has visited over 100 botanical gardens and research institutions during this process while taking thousands of pictures of representative plants. He is also Executive Director of Plants and Healers International www.plantsandhealers.org and on the Board of Directors of the Appalachian Institute for Mountain Studies. He has taught hundreds of classes and thousands of people about the marvelous world of plants, people and their interface while working with over 60 organizations in the last few years and online at the website www.botanyeveryday.com. Marc's greatest hope is that his efforts may help improve our current challenging global ecological situation.
---
Dear Thomas,



My wife gave me Botany in a Day and Participating in Nature for my birthday in September.

Botany in a Day is a revolutionary approach in the way that way that you introduce the family concept for "non-botanists". I teach botany courses (identification, ecology, conservation, edible and medicinal uses, etc.) at the Rocky Mountain Biological Laboratory near Crested Butte, Colorado. I've taught college students, biologists, land managers, and vacationers. I always try to take the family approach. I think it is a great way to organize the taxonomy of things in one's head instead of just learning about a bunch of plants. This is obviously an old system in the technical resources, but your use of it in a field guide is great.



In Participating in Nature, I particularly like the way you combine your philosophy in a journal style with discussion of specific skills. I also like very much how you emphasize those skills or variations on skills that you have adapted on your own. It is clear that you have spent much creative time in the woods. I have been very much an observer and student of the land in the past 10 years, but it has really only been in the past few years that I am becoming a participant. For example, I have a masters in botany with an emphasis in plant taxonomy. So it is now that I am going back and saying, "Oh, I didn't know that was edible!" or "Dang, I can make rope out of this?". I thought I knew the plants of the Colorado Rockies pretty well, and then I started eating them and realizing that my learning had just begun. I am getting pretty decent with a bow-drill and I've tanned a few dozen hides. But I realize I have the knowledge of about an 8 year-old Cheyenne boy. I am getting better at accepting that tomorrow is another day.
--Kevin T.
Broomfield, Colorado