Green University® LLC Presents...
A Midwinter Sew-In
Buckskin Clothing Intensive
River Camp: Cardwell, Montana. February 4 - 24, 2020
Sewing with buckskin is truly exciting and just a little bit terrifying. How do you make that first cut after all the hard work that goes into fleshing, scraping, and softening a beautiful hide? The Buckskin Clothing Intensive is an opportunity to gather with friends around the fire and sew your own beautiful, durable buckskin outfit. Make shirts, pants, dresses, skirts, leggings, hoodies, pullovers, jackets, moccasins, bags, backpacks... whatever you can dream up from your own pile of hides tanned during the Braintan Marathon.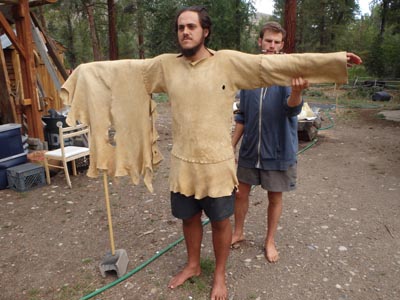 Buckskin itself is a timeless material, utilized by our ancestors for thousands of years. Nevertheless, the art of making clothing is subject to lifestyle changes and fashion trends. When the craft of braintanning was revived from a nearly lost art, most early braintanners looked to the mountain men and Native Americans for traditional buckskin clothing designs. People made beautiful, authentic clothing that was ideal for historical reenactments and primitive skills gatherings, but couldn't be worn downtown without becoming a spectacle. Now, the emerging fashion trend is to make buckskin clothing for everyday wear, even down town.

Browse through the fashion gallery to spark ideas for creating your own fashionable braintan buckskin clothing. Whatever your fancy, compare notes and refine patterns with input from fellow students and the instructors. Learn tips and techniques for crafting and sewing with buckskin, and get advice to help bring your projects to successful fruition.

To participate in the Buckskin Clothing Intensive, apply to our semester or year-long immersion program and join us for the Fall Harvest Celebration and Braintan Marathon.
Interested in more classes?
See our full class schedule!
Looking for an extended immersion experience at a discount price?
Join us for a semester or a full year!