Green University® LLC Presents...
A Midwinter Braintanning Competition
Braintan Marathon
River Camp: Cardwell, Montana. January 7 - 27, 2020
How many hides can you tan in 21 days? The Braintan Marathon is a competitive event to finish hide projects started through the fall hunting season. Collect hides in November and December, flesh and salt them for storage, or better yet, start soaking and scraping them for tanning. You will likely tan your first hide(s) during the fall season, while stockpiling supplies for future projects. Advance them as far as you want in preparation for the January Braintan Marathon.

Braintanning that first deer hide is a truly magical experience, yet not terribly useful on its own. Tanning the second and third hides increases the options to make something useful. Tanning several more hides is necessary to make a complete head-to-toe buckskin outfit. Tanning a whole pile of hides makes you rich in buckskin. Now you can be choosy in deciding which hides to match together in making clothing, with plenty left over to craft bags, backpacks, or anything else you can dream up in the months or years to come.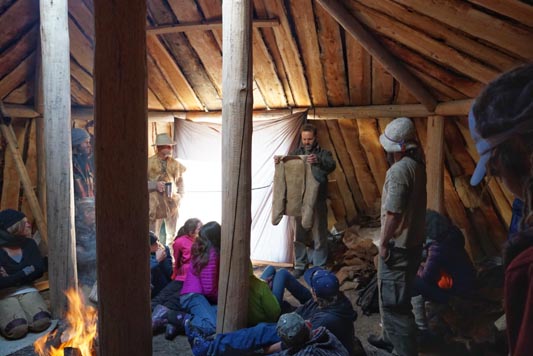 Any hides not yet softened may be finished during the Braintan Marathon. We've been closing in the earthlodge to make a warm classroom / workshop space that is ideal for softening hides in mid-winter. Scrape as many hides as you want in advance. Then gather around the fire to stretch, cable, and soften one hide after another. The student that softens the most hides in twenty-one days wins free enrollment to Winter Count in February or any other primitive skills gathering in the same calendar year, not to exceed $350 in value.

Best of all, everybody wins. The purpose of the Braintan Marathon is to stimulate a little friendly competition to keep projects moving forward through the winter. By the end of January everyone should have a beautiful pile of braintan hides to utilize in February's Buckskin Clothing Intensive.

To participate in the Braintan Marathon, apply to our semester or year-long immersion program and join us for the Fall Harvest Celebration.
Interested in more classes?
See our full class schedule!
Looking for an extended immersion experience at a discount price?
Join us for a semester or a full year!