Green University® LLC Presents...
Meat Me in Montana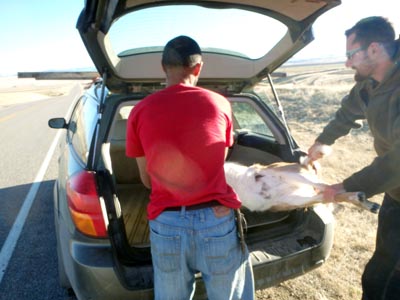 Deer Processing Intensive
with Barnes
River Camp: Cardwell, Montana
October 10 - 24, 2020
Do you want to become an expert at skinning and butchering deer, canning meat, and tanning hides? Come to Montana this October for an immersive deer processing experience!

Join instructor Ryan Barnes for two weeks of fun. We'll start at the wild game processors, where you will learn to skin deer like an expert, without leaving holes or knife marks in the hides. Back at camp, learn how to flesh and wet-salt fresh hides to preserve them for future tanning. And learn the brain-tanning process and make your own beautiful braintan buckskin. If you are passionate about buckskin, you will have the opportunity to bring home a handful of salted hides, and as many scraped and tanned hides as you can do in a month! You will also have the opportunity to skin hocks for bags, pull deer toes for jingling, and extract tendons and bones for tools. Skinning and tanning continues throughout the month with the opportunity to leave with a trunk full of hides and deer parts to craft with throughout the winter!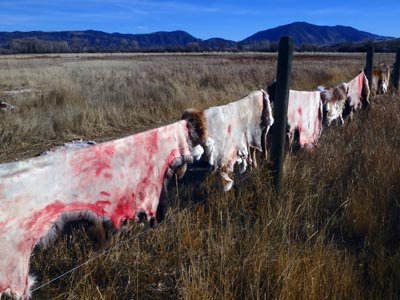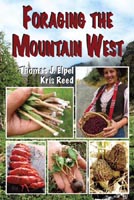 In addition, learn how to collect, clean, skin, and butcher legal roadkill. We will collect and butcher numerous deer off the side of the road. Learn to dry jerky, pressure can meat, mash pemmican, make bone broth and stock up on nutritious wild organic meat to enjoy all winter. Stay for Thanksgiving and make gourmet dishes out of wild venison: organ sausage, blood pancakes, stomach bread, tender roasts, and rocky mountain oysters.

For a good primer on processing roadkill game, be sure to read Tom's book Foraging the Mountain West: Gourmet Edible Plants, Mushrooms, and Meat.

Tuition includes lodging in wikiups and an earthlodge along the Jefferson River near the base of the Tobacco Root Mountains in Cardwell, Montana. Plan to take turns cooking communal meals. Groceries provided include roadkill venison, plus basic foods such as rice and beans, potatoes, carrots, and onions. Please plan to purchase additional groceries to contribute to the pot. We would also be grateful for your contribution of any additional food that you've grown, gathered, and preserved. Class includes several stewardship days to clean up the site and keep it nice for future students.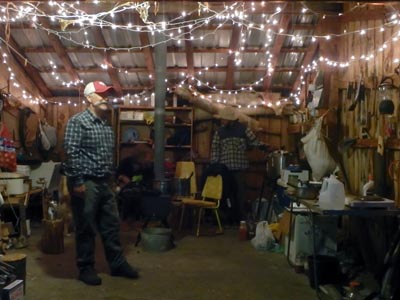 This is the most intensive animal processing class out there, and the cost is only $950! To help keep costs low, participants are asked to help skin and salt about ten extra deer hides to leave behind for other Green Univesity® LLC classes and other projects. To register, please fill out and mail in the Medical History (PDF) and Liability Waiver and Release (PDF) forms, along with a check for $350 to reserve your spot. The balance can be paid upon arrival. Or register online through the shopping cart system and send the paperwork separately.
Tired of the Rat Race?


Read Tom's book
Green Prosperity: Quit Your Job, Live Your Dreams!
Interested in more classes and events?
See our full schedule!
Looking for an extended immersion experience at a discount price?
Join us for a semester or a full year!