Green University® LLC Presents...
Classroom in the Woods for Educators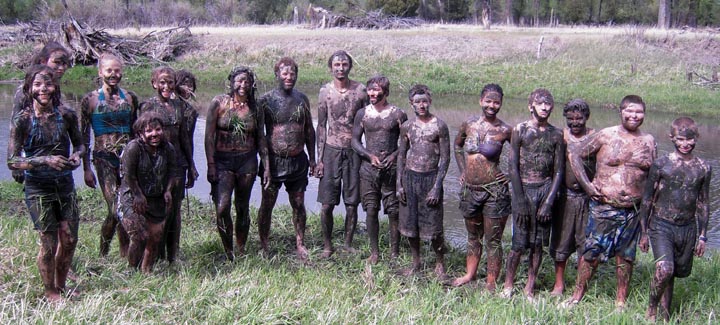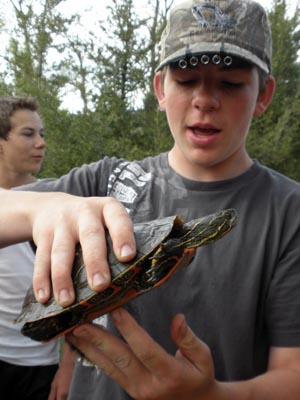 Outdoor Education and Basic Skills Intensive
with Thomas J. Elpel
May 1 - 31, 2023
Do you want to learn primitive skills basics and learn how to work with kids? Come to Montana for a month of skills, games, and fun working with public school groups. Join Thomas J. Elpel and Kris Reed for an immersive wilderness skills experience working with kids in conjunction with our sister program, Outdoor Wilderness Living School (OWLS).

No prior skills are necessary. You will have the opportunity to learn skills along with the students and teach and mentor to the extent of your comfort level. We'll camp with students from public schools and cover a multitude of skills from shelter construction to primitive fire-making, wilderness cooking, stalking and wildlife observation, bows and arrows, and war games.


Make your own coal-burned bowl and spoon. Learn to start fires with flint and steel and the bowdrill. Forage for wild plants and mushrooms and learn how to cook a stir-fry without a metal pan, using hot rocks in a wooden trough. Bake bread in a stone oven, cook a steam pit dinner, and learn many tips and tricks for cooking wilderness meals with kids.

Learn basic stalking and nature observation techniques and beginning bird language. Test your skills in games of stealth and fun. Participate in stalking excursions to observe wildlife on properties loaded with whitetail deer, moose, wild turkeys, coyotes, cottontail rabbits, porcupines, otters, geese, ducks, owls, red-tailed hawks, and more.


Discover that every rock and tree and plant has a use. Learn to make basic stone tools, split willows, and make twig deer figurines. Improvise bows and arrows and atlatls, and plan on war games with marshmallow blowguns and foam-tipped arrows.

Above all, learn how to create an intensely educational experience for kids that is exciting, satisfying, and unforgettable. Learn how to mentor young people and foster their love and interest in nature, as shown in our video Classroom in the Woods: Primitive Skills for Public Schools.

Tuition includes lodging in wikiups at our River Camp facility along the Jefferson River. Groceries provided include roadkill venison, plus basic foods such as rice and beans, potatoes, carrots, and onions. Please plan to purchase additional groceries to suit your unique dietary needs and wants.

No Drugs, Alcohol, or Tobacco
Green University&reg: LLC is a drug, alcohol and tobacco-free learning establishment. Our staff maintains a sober environment for individuals who are excited about nurturing a deeper nature connection. Anyone distracted with alcohol, tobacco, marijuana, or other drugs is not focused on learning or optimizing their experience at Green University® LLC. Therefore, we have a zero tolerance policy for drugs, alcohol, and tobacco in any form. Anyone violating this rule will be asked to leave. This is not a joke. Please read this paragraph again before signing up. Thank you.

This is an intensive and immersive program for learning basic skills and working with kids, and the cost is a mere $950! Space is limited for this program so that we do not overwhelm the kids with too many adults. To register, please fill out and mail in the Medical History (PDF) and Liability Waiver and Release (PDF) forms, along with a check for $300 to reserve your spot. The balance can be paid upon arrival. Or register online through the shopping cart system and send the paperwork separately. Please note that we must conduct background checks on anyone associated with our kids programs.
Interested in more classes and events?
See our full schedule!
Looking for an extended immersion experience at a discount price?
Join us for a semester or a full year!
---
Hey Tom!

I just finished another outdoor education class and wanted to give you an update. I'm living now in California, just north of L.A. in the mountains. One of the Waldorf schools in the area had heard about my other class and wanted to try me for a 5th grade class. We played scout sword and did a blindfolded sit and talked about basic awareness, everybody had a lot of fun and I am pretty sure they will be interested in doing more classes. All thanks to you Tom. I hope all is well!

Much love,

Erik K.
---
Hi Tom,

The amount that I learned in such a short amount of time at the Outdoor Education and Basic Skills Intensive was truly life changing -- it not only solidified my interest in working with students in an outdoor education setting, but also allowed me to learn many more ancestral living skills and teaching techniques than I expected. I highly recommend this experience to anyone who is interested in working with kids in a setting that is outside of the usual classroom, you will not only learn loads of skills and teaching techniques, but will also harness a deeper understanding of yourself, your community, and the natural world around you. Thank you, Tom!

--Kelsi C.