Green University® LLC Presents...
A Botany and Foraging Extravaganza!
Botany and Foraging Intensive
with Tom Elpel
Date and Location TBA
Would you like to polish your plant identification skills and feast on wild edibles? Join Kyle Chamberlain and Thomas J. Elpel, author of Botany in a Day and Foraging the Mountain West for an intensive two weeks of botanizing, wild food foraging, camping, and exploring the diverse landscapes of the inland Northwest.



This intensive is geared toward making foraged foods the center of our daily diet, and preserving a small supply of food for the future. This is also part of an ongoing mission to locate and propagate the region's most useful plants for permaculture projects. Though too early for fruits and berries, March is a prime time to collect a cornucopia of tubers, shoots, and greens. Honing your forager's eyes with Tom and Kyle, you will learn to feel as much at home in the big green world as an ape in the jungle.

Our aim is to equip students with more than knowledge of a particular set of plants in a particular region. We offer a working taxonomic knowledge of food plants throughout the cold climate world, useful in modern horticulture, traditional foraging, and everything in between. This broader kind of education is in the spirit of Botany in a Day and Kyle's articles, Our Associates and The Botany of Nothing.


This adventure will be based at Kyle's experimental homestead, The Human Habitat Preserve in the lowland forest of the Upper Columbia River, where conifers blend with birches and maples. Here we'll be familiarizing ourselves with the most generous green associates of the season, their habitats, and their processing methods. We'll make baskets, drying mats, diggers, and storage containers from natural materials. And we'll be integrating our foraging with other ancestral skills, such as fire and shelter making, in the context of meeting our needs directly from the land -- putting our skills to the test. Accommodations at The Project are creatively primitive, and intended to give the feel of a hunter/gatherer community, so bring what supplies you would need to feel comfortable camping.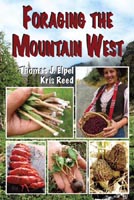 We will also explore and forage the Columbia and Snake River valleys -- the "banana belt" of the Intermountain West, with fertile root grounds, and groves of feral fruit and nut trees descended from some of the Northwest's earliest European settlements. Feral apricots, mulberries, plums, cherries, walnuts, apples, pears, parsnips, and ground cherries have naturalized here like nowhere else. These wild groves are prime models and genetic resources for sustainable horticulture. For this early spring class, we will emphasize wild root harvesting.

Whether you are a novice or experienced botanist and forager, this is a unique opportunity to spend one-on-one time with Tom Elpel and Kyle Chamberlain, improving your plant identification and wild food foraging skills! Cost: $500. To register, please fill out and mail in the Medical History (PDF) and Liability Waiver and Release (PDF) forms, along with a check for $250 to reserve your spot. The balance may be paid upon arrival. Or register online through the shopping cart system and send the paperwork separately.
Interested in more classes and events?
See our full schedule!