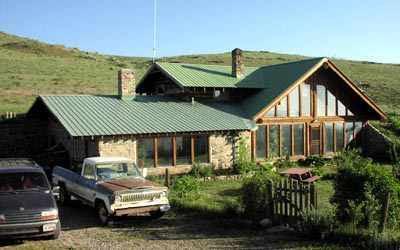 "In high-school the teachers were always telling us that we had to study hard so that we could find good-paying careers as adults. I found it irritating that they would paint such a dismal picture of the future. I did not realize at the time that most of my classmates considered it normal. I had a lot of Dreams in life, and the idea of getting a job and working for the next forty years just scared the heck out of me. Thus I was highly motivated to find a no-job path to success."
--Thomas J. Elpel
Building a House on Limited Means
Green University® LLC Campus
Live, Work, and Play in Montana!
River Camp - Cardwell, Montana
Experience Green University® LLC's Hunter-Gatherer Immersion program at River Camp, located on the historic Jefferson River in southwest Montana. The 21-acre property is the primary campus for our growing immersion program. The riverfront property is amazingly diverse, with a trout pond, a backwater slough, willow thickets, open fields, and abundant wildlife. Participants can expect to encounter deer, moose, beaver, raccoons, and any other wildlife while out stalking or doing a sit spot. Even bears and wolves have been seen along the Jefferson River!


After years of searching, we identified this property as the ideal site for Green University® LLC due to its centralized location and low elevation. Located in the heart of the Jefferson Valley at 4,300 feet in elevation, River Camp is warmer and drier than the surrounding mountain properties, greatly facilitating activities all year long. This is an excellent school campus for developing proficiency at hunter-gatherer and wilderness survival skills.

Winter snows are infrequent and quickly melt away, enabling outdoor activities in regular clothes and shoes even in the middle of winter. Moreover, the property is effectively bigger than its boundaries, with the buffer of a semi-wild fishing access site along one side and the sandbars of the river expanding another side. The combined area includes at least 45 acres of prime habitat to explore, learn, and play. We are also surrounded by range after range of beautiful mountains and hundreds of thousands of acres of public lands to go exploring and camping!


In addition, the Jefferson River is part of the Lewis & Clark National Historic Trail, and with riverfront access, it is easy to launch a canoe in the water and paddle up the slough or down the river.

River Camp has electricity and potable water on site. Facilities include a 34-foot diameter modernized earthlodge for an all-weather, all-season classroom and accommodations, plus several wickiups, a grass hut, tipis, and a communal cook shack and storage shed. It is our goal, however, to maintain the property in as much as an undeveloped state as possible. We purchased this property in part to prevent it from being developed into a home site, and we intend to eventually place an easement on it, dedicating the land in perpetuity as an outdoor education center, to preserve the integrity of the riverfront long after we are gone.


Our campus is located halfway between the communities of Cardwell and Whitehall, Montana, offering easy access to town amenities, including gas, groceries, a library and internet access, hardware store, restaurants, and even a $4 per-ticket movie theater. River Camp has great cell phone coverage, and with the right hardware, you can even do internet on the property. It is, however, primarily intended as an outdoor skills camp, and we plan to keep it as primitive as possible in the years to come. Fitting within that context, we are gradually permaculturing the property with fruit trees and other edibles.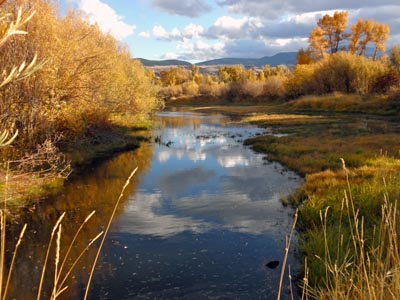 At present, we are shuttling people up to Tom's house in Pony (seen at the top of this page), twenty-five miles away, for occasional showers. His passive solar stone and log home and five-acre property was the original home for the immersion program, and many people have come to stay there over the years. In 2012 Green University® LLC participants built a small castle guest house on the property, using mostly recycled materials. Many of our activities are based out of Pony. When working or visiting the home base, students camp in the castle, a wickiup, in tents, or in the house.
Interested? Check out our
Immersion Program
---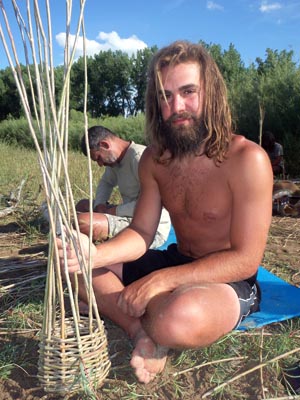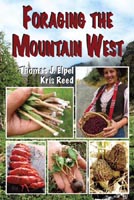 Hey Tom,

It's been such an adventure getting to know you and your family, creativity runs thick in the Elpel blood. Looking forward to working more with you in the future and of course the plant walk. I've been really enjoying your foraging book.

I can't thank you enough for the knowledge. Never have I had a more patient and humble teacher. That in itself was an invaluable lesson. I also appreciate your way of communication, most people talk a lot and say little, however, I learned you speak volumes with great efficiency. This makes listening much more enjoyable for those who hear every word. These thoughts needed to be expressed and they come out so much better written than said.

Kind regards,

Erik K.