"Little has changed since the Stone Age. We still have the same basic needs today as in millennia past for such things as physical and mental well-being, shelter, fire, water, and food-it is only the way we meet those basic needs that has changed. For example, as hunter-gatherers we met our needs largely on our own; each of us produced every aspect of our culture, from shelter to clothing to entertainment. Today we have the same needs, but we more often meet those needs through the network of society, trade, and money. Nevertheless, if we look beyond the illusion of money we will discover that our economy today - like the economies of all past cultures - is based not on dollars or Duestche marks or yen, but on calories of energy."
--Thomas J. Elpel
Calories: The Currency of All Economies
Green University® LLC Campus
Live, Work, and Play in Montana!
River Camp - Cardwell, Montana
Experience Green University® LLC's Hunter-Gatherer Immersion program at River Camp, located on the historic Jefferson River in southwest Montana. The 21-acre property is the primary campus for our growing immersion program. The riverfront property is amazingly diverse, with a trout pond, a backwater slough, willow thickets, open fields, and abundant wildlife. Participants can expect to encounter deer, moose, beaver, raccoons, and any other wildlife while out stalking or doing a sit spot. Even bears and wolves have been seen along the Jefferson River!


After years of searching, we identified this property as the ideal site for Green University® LLC due to its centralized location and low elevation. Located in the heart of the Jefferson Valley at 4,300 feet in elevation, River Camp is warmer and drier than the surrounding mountain properties, greatly facilitating activities all year long. This is an excellent school campus for developing proficiency at hunter-gatherer and wilderness survival skills.

Winter snows are infrequent and quickly melt away, enabling outdoor activities in regular clothes and shoes even in the middle of winter. Moreover, the property is effectively bigger than its boundaries, with the buffer of a semi-wild fishing access site along one side and the sandbars of the river expanding another side. The combined area includes at least 45 acres of prime habitat to explore, learn, and play. We are also surrounded by range after range of beautiful mountains and hundreds of thousands of acres of public lands to go exploring and camping!


In addition, the Jefferson River is part of the Lewis & Clark National Historic Trail, and with riverfront access, it is easy to launch a canoe in the water and paddle up the slough or down the river. Downstream at Three Forks, the Jefferson River combines with the Madison and Gallatin rivers to begin the 2,341-mile Missouri River.


Green University® LLC founder Thomas J. Elpel carved a dugout canoe at River Camp with Churchill Clark, the great-great-great-great grandson of Captain William Clark of the Lewis and Clark Expedition. Tom then invited friends and former students to join an expedition down the full length of the Missouri as told in his award-winning book, Five Months on the Missouri River: Paddling a Dugout Canoe.

This region of Montana, known as the Missouri Headwaters, wasn't historically the permanent home of any one tribe, but served as a common bison hunting area for the Shoshone, Nez Perce, Bannock, Salish, Blackfeet, Gros Ventre, Assiniboine, Cree, Crow, Cheyenne, Arapaho, Dakota, Lakota, and Hidatsa tribes, the latter traveling all the way from present-day North Dakota to hunt here. (See Missouri Headwaters History below.)

River Camp has electricity and potable water on site. Facilities include a 34-foot diameter modernized earthlodge for an all-weather, all-season classroom and accommodations, plus several wickiups, a grass hut, tipis, and a communal cook shack and storage shed. It is our goal, however, to maintain the property in as much as an undeveloped state as possible. We purchased this property in part to prevent it from being developed into a home site, and we intend to eventually place an easement on it, dedicating the land in perpetuity as an outdoor education center, to preserve the integrity of the riverfront long after we are gone.


Our campus is located halfway between the communities of Cardwell and Whitehall, Montana, offering easy access to town amenities, including gas, groceries, a library and internet access, hardware store, restaurants, and even a $5 per-ticket movie theater. River Camp has great cell phone coverage, and with the right hardware, you can even do internet on the property. It is, however, primarily intended as an outdoor skills camp, and we plan to keep it as primitive as possible in the years to come. Fitting within that context, we are gradually permaculturing the property with fruit trees and other edibles.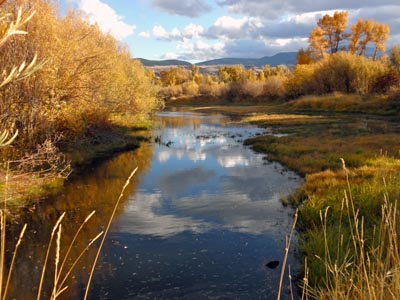 If mosquitos drive us away from River Camp in summer, we migrate twenty-five miles to Tom Elpel's homestead in Pony, Montana, as a temporary base of operations. Green University® LLC participants previously built a small castle guest house on the property, using mostly recycled materials. When working or visiting the home base, students camp in the castle, a wickiup, in tents, or in the house. Pony is nestled in the foothills of the Tobacco Root Mountains with easy access to public lands, hiking trails, and scenic mountain lakes to explore on days off. Are you ready to come join the fun?
Interested? Check out our
Immersion Program
---
Southwest Montana has been intermittently inhabited for at least 13,000 years, starting with Ice Age mammoth hunters known as Clovis culture. The mountains remained mired in glaciers for some time, so most activity was constrained to the valleys. As mammoths and ancient bison (Bison antiquus) went extinct, Paleoindians increasingly turned to plants, seeds, small game, and the more recently evolved American bison (Bison bison). But Montana became exceptionally hot and dry from 9,000 to 5,000 years ago, and was apparently largely abandoned during that time period.

Indigenous activity resumed as the climate moderated, with many tribes utilizing the nearby Madison Buffalo Jump starting about 500 B.C. and persisting until Spanish horses were traded north from Mexico, providing a more consistent means of hunting bison. This region, known as the Missouri Headwaters, wasn't the permanent home of any one tribe, but became a common, often disputed, bison hunting ground.

In the 1500s, the Kootenai came into Montana from the north. The Salish and Kalispel migrated in from the north and northwest, venturing south to the Missouri Headwaters and eastward.


Major population shifts started in the early 1600s, bringing several new tribes into Montana. With horses of Spanish origin, the Shoshone migrated into Montana from the Great Basin and hunted bison, becoming the dominant tribe in the area. However, the arrival and expansion of European settlers on the east coast pushed Native Americans west, in a domino effect that extended all the way to Montana.

The Crow migrated into Montana from the east in the 1600s, followed by the Blackfeet, Gros Ventre, and Assiniboine in the 1700s. With the acquisition of guns and horses, the Blackfeet became the dominant tribe on the plains in the 1700s. The Shoshone were largely pushed back over the continental divide into Idaho, but still ventured into Montana hunting and foraging.

By 1800, the Missouri headwaters and much of southwest Montana was a crossroads frequented by the Bannock, Newe (Shoshone), Niimiipuu (Nez Perce), Seliš (Salish), Ktunaxa (Kootenai), Qlispé (Kalispel / Pend Orielle), Piikani (Blackfeet), A'aninin (Gros Ventre), Néhinaw (Cree), Apsáalooke (Crow), Tsétsêhéstâhese (Cheyenne), Hinono'eino (Arapaho), Nakota (Assiniboine), OčhéthiŠakówi (Lakota and Dakota), and Hiraacá (Hidatsa) tribes.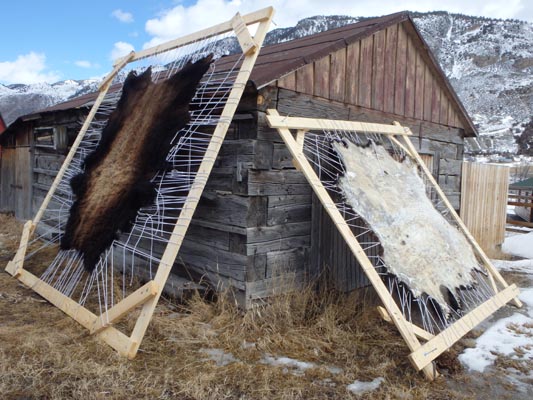 Sacagawea, of the Lemhi Shoshone, was captured by the Hidatsa on the lower Jefferson River in 1800, when she was about twelve years old. She was later married to Toussaint Charbonneau and both of them joined the Lewis and Clark Expedition when Lewis and Clark wintered with the Hidatsa in North Dakota in 1804-05.

Lewis and Clark were the face of westward expansion and colonization, leading to the ultimate demise of wild bison and the indigenous peoples who depended on them. Yet, local tribes, especially the Nez Perce and Shoshone, still recognize ancestral and cultural ties to southwest Montana, and tribal members continue to leave tobacco offerings at local sites of cultural and historical importance.

As the ebb and flow of people and cultures continues, we at Green University LLC hope to see a day when wild bison once again roam portions of their former range, and with the bison, an honoring of the people whose lives were deeply intertwined with them.
---
Hey y'all,

I just had a great day driving through Yellowstone, and am lucky enough to be lying in a comfy hotel bed - but I can't fall asleep. Because I've slept well on the road with River Campers, in dirt, in people's yards, on pine cone beds, I wonder why I can't sleep here - why, when I was so comfortable on the move at Green University, I now feel restless and uprooted. And I think it's because it was not River Camp, but River Campers that became my second home, and my second family. Sure, I could miss the "comforts" of River Camp out and about, but I was always with you guys, so I was always at home.

I am so thankful for you guys and River Camp. You helped me find and confidently be my weirdo self - Confident to learn this stuff. My eyes were opened to all the cool things you can do in the world, and the fun and learning and joy to be had.

When I arrived at River Camp, I was expecting a fun one-year experience, but I dreaded what would come after - I figured it would be back to the Machine/Script/Matrix, back to the world that felt wrong, one I didn't believe I could be happy in, doomed to an existence of perpetually feeling down and done and alone. But now, I'm leaving Green University feeling excited and hopeful, even if I'm a little sad. I'm excited to go into the world and do stuff, there's a lot of cool challenges. You guys are a powerful bunch! Remember that! Appreciate your time together! Have fun! But who are we kidding, I'll see you all in a few weeks when I miss you guys too much and drive back :) I love you all so much!

--Raye S.