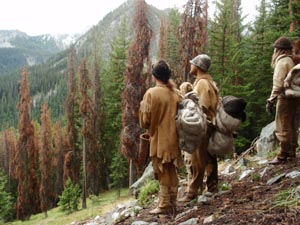 "I practice and teach classes on primitive or stone age skills--which is to say, camping with little or no gear. We build shelters that are warm and comfortable without a sleeping bag or blanket. We start fires by rubbing sticks together. We harvest and use edible wild plants, make baskets, and tan hides--that sort of thing. Fundamentally, these are skills that allow us to discover nature by participating in nature. Instead of merely hiking through or camping in it, we can move in and become part of the process. It is an intimate way to learn about nature by using it."
--Thomas J. Elpel
Primitive Living as Metaphor
Green University® LLC Immersion Program
Wilderness Survival Skills, Sustainable Living
and Green Business Opportunities
Change your world while learning to change the world. Our Green University®, LLC immersion program connects the dots from wilderness survival to sustainable living in the modern world. Through primitive living skills, we immerse participants in the natural world and deal with sustainability issues at an intimate level. The acts of finding shelter, harvesting wild foods, making clothes, and keeping warm reproduces issues of modern sustainability on a model scale as we journey to meet our needs.

Conversations started through primitive living experiences are continued as we work on projects such as sustainable, high-efficiency construction from mostly recycled materials. We begin with self-sufficiency and look outward towards global sustainability. And for those who are interested, we seek to incubate green businesses to make our society more sustainable.
At Green University® LLC we recognize four distinct levels of experience. Begin as a Hunter-Gatherer and break free from the Machine to walk your own path. Learn to skin a deer and make your own buckskin clothing. Learn how to travel, camp, and forage in the wilderness of rural and urban landscapes, exploring and living beyond the artificial boundaries of civilization. Experience self-sufficiency on a model scale as you learn to meet your survival needs with little more than your bare hands.

Transition to the level of Homesteader as you learn skills to re-integrate with civilization, but on your own terms. Learn basic construction and maintenance skills and how to build with local materials or scavenged resources from the industrial waste stream. Learn how to establish your own self-sufficient rural or urban homestead without getting trapped into working some meaningless job to make payments on a lifelong mortgage, utility bills, or other major monthly expenses. Learn how to live more sustainably within civilization without giving up your freedom to the Machine.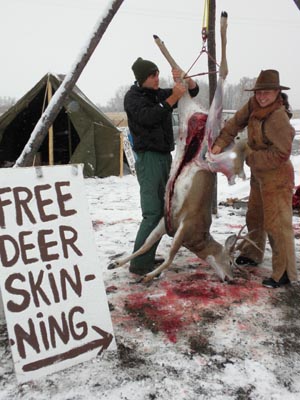 Having addressed your own survival needs, transition to the level of Caretaker. This level of experience germinates from a deeper level of conversation about ecology, economics, and consciousness. Make a positive difference by taking ownership of the world around you. Clean up trash without being asked. Plant trees, even without permission. Help out with nonprofit activities. Reach out to the next generation.

For those who are interested, the Ecopreneur level of experience is directed towards making positive change in the world at a net profit. Discuss, evaluate, and incubate green business concepts to make a living while making the world a better place. It can be as simple as launching a new green product or business or as ambitious as performing economic ju-jitsu to out-compete inefficient, wasteful businesses and drive change towards a greener world.

These four levels of experience are not segregated in the Green University® LLC curriculum. We are engaged at all four levels all the time, often in subtle ways. It takes time to tune into landscape ecology, human ecology, and economic ecology to intuit how to drive successional change from what is to what could be. Incoming participants may not be fully aware of the deeper conversations in the beginning. The curriculum varies according to the interests, queries, and drive of the participants each year. Start with the basic skills of self-sufficiency, then tune-in and ask the deeper questions.
Did you know?
Former Green University® LLC students
comprised the majority of the crew for the
Missouri River Corps of Rediscovery:



Five Months on the Missouri River
Paddling a Dugout Canoe
Ready for an Adventure? Join us!
Registration: How to Apply
---
Tom,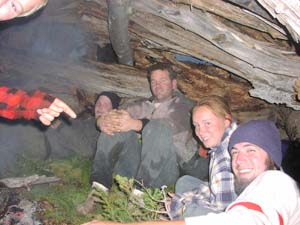 The longer it has been since I was out there the more I appreciate my brief time with all of you. My memories of sitting on a big fallen cottonwood by the river at your store and watching the birds dart around just above the surface of the water, or of hiking in the Tobacco Roots through the thick grass beneath the conifers, have only become clearer and more profound with the passing of time. Even remembering the pain of hunger and cold, it all seems so... necessary. I just wanted to thank you, Tom, since I don't think I really have quite properly enough, for the whole experience.
I'm pretty tired of school. All these books that I've read and all the big questions that they ask really do pale in comparison to one fresh, clean, clear memory of the woods. And all the knowledge that I've absorbed here and all the alleged opportunities this education is supposed to bring me seem so trite and extraneous. I'm eager to get back to learning practical skills, skills that are in my blood and that are an extension of myself on the land.
That rabbit was in my dreams a while ago. It was young and in a field and when it saw me it ran. Then it turned back to look at me and when it did it was fully grown. I woke up feeling so happy and thinking that some great thing had allowed me to kill that poor bunny, and that it was an invitation to something which I should not ignore. I hope you and your family are well, and that your beautiful land remains unnoticed by the masses. And thanks again.

- Christian McCrory