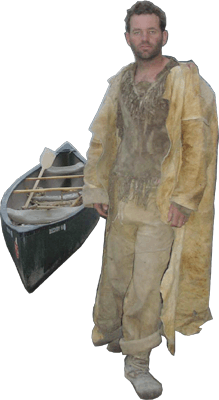 "The Machine is everything you have ever known and everything you have ever been told. The Machine is the unconscious collective sum of humanity. It assimilates everything in its path, turning meadows and wildlands into subdivisions and shopping malls. The Machine sucks the life out of children, making them into automatons that work without meaning and consume without purpose."
--Thomas J. Elpel,
Break Free from The Machine
The Hunter-Gatherer Experience
At Green University® LLC we recognize four distinct levels of experience. Begin as a Hunter-Gatherer, and break free from the Machine to walk your own path. Learn to skin a deer and make your own buckskin clothing. Learn how to travel, camp, and forage in the wilderness of rural and urban landscapes, exploring and living beyond the artificial boundaries of civilization. Experience self-sufficiency on a model scale as you learn to meet your survival needs with little more than your bare hands.


Hunter-Gatherer skills are the heart of the Green University® LLC program. It is about regaining lost freedoms. Rediscover the world of our ancestors, who could often roam hundreds of miles in any direction without encountering artificial boundaries and "no trespassing" signs. Real estate was functionally free and mortgage payments nonexistent. A house could be quickly erected from sticks and bark, and paying a utility bill meant gathering free firewood. Meat and vegetables were available for the harvesting, and there were few, if any taxes.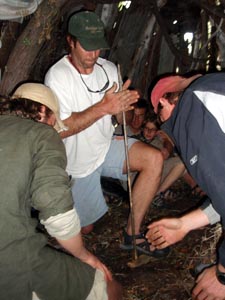 The path of the Hunter-Gatherer is essentially about constructively rebelling against the Machine and walking away from the rules of civilization to reclaim one's independence. Rather than being reduced to working for wages at some fast food joint in exchange for the right to purchase mass-produced clothing and groceries from some big box store, the Hunter-Gatherer path empowers the individual to become self-sufficient.

Through our Fall Harvest Celebration, learn how to skin and butcher deer, tan hides, and make fashionable clothing to wear uptown, downtown, or out of town. Learn how to provide for yourself, from eating wild plants to foraging fruit from feral trees, to scavenging leftovers from the industrial waste stream. Learn the fundamentals of botany and how to recognize the potential properties and uses of a new plant long before you know its precise identification. Learn to use your hands to craft and create tools, equipment, containers, and hunting weapons. Acquire the skills to think and innovate for yourself.

Follow your passions and develop your primitive wilderness survival skills among a tribe of like-minded individuals. Learn to start fire-by-friction, harvest and process wild foods, and weave willow baskets. Help out as an assistant instructor, sharing survival and nature awareness skills with kids from our local public schools.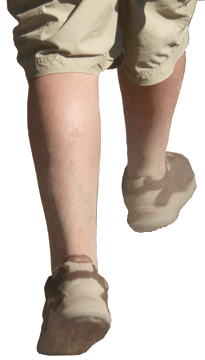 Every year is different, based on the interests that students bring to the school. Whatever your interests are, we will coach you to the best of our abilities or steer you towards the resources you need.

Intermittently throughout the year, we pack up and head out with friends and family members on wilderness survival walkabouts or canoe trips. These events are not part of the official Green University® LLC curriculum, and anyone with sufficient skills is welcome to join us for the fun. For a sampler of our adventures, be sure to read Tom's Camping Journals and Norm's Primitive Skills Journal.

In Depth: A Year of Hunter-Gatherer Training

How far do you want to go? It's one thing to take a class and learn a skill. It is quite another to spend an entire year refining your skills as a hunter-gatherer. Join us in the fall and spend a year systematically building a survival kit of physical skills and know-how for Stone Age living. Immerse yourself in the primitive lifeway, living and working in wickiups, grass huts, and our traditional Mongolian felted yurt. Become an expert at skinning deer, processing the meat and hides and making jerky. Next, learn how to tan skins in the traditional way, using brains to soften the hides.

This isn't just an academic exercise. Here at Green University® LLC, you have the opportunity to tan enough hides to make an entire head-to-toe buckskin outfit. Learn expert sewing techniques to make clothing that is both functional for wilderness wear and fully fashionable to wear to town. Spend the winter engaged in crafting and practicing hands-on skills, such as bow and drill or handdrill fire-starting. We'll even take a break from G.U. now and then to go on a winter walkabout with friends, family members, and students. It is a great opportunity to test out your skills and hand-tailored buckskin clothing.

Take your skills to a whole new level with the coming springtime and the greening of the world. Join the celebration as the grass turns green and the leaves pop out on the trees. Learn how to mentor young people in the outdoors as we host field trips and camping trips for the local school kids. From foraging for wild plants and mushrooms, to cooking, crafting, making weapons, and playing games, you will learn a ton on this fun-filled adventure!




Sharing wilderness skills with the local school kids.

After the school programs, we often take a break from G.U. to do a canoe trip with friends and family on Montana's Canyon Ferry Reservoir to go carp hunting with bows and arrows. This is a great opportunity to test all of your hunter-gatherer skills! A Montana fishing license is required if you wish to participate.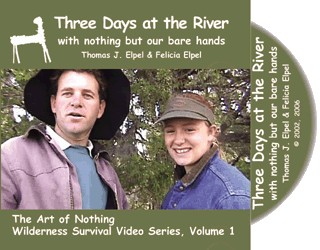 Summer is play time in Montana when the snow melts out of the mountains and wildflowers explode with color in every meadow. Summer is a great time of year to forage for wild foods, practice skills, and get out in the mountains. Practice your skills on campus, or take off on an adventure of your own making. We will go on several semi-Stone Age camping adventures throughout the summer that will really put your skills and buckskin clothing to the test. These are not official Green University® events, just something we like to do with friends, family members, students, and pretty much anyone else who is qualified and wants to join the adventure.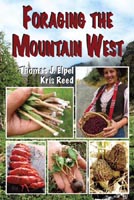 Recommended Reading: To get the most out of the Hunter-Gatherer experience, be sure to familiarize yourself with Tom's plant identification and wilderness survival books and videos:

-Foraging the Mountain West: Gourmet Edible Plants, Mushrooms, and Meat
-Botany in a Day: The Patterns Method of Plant Identification
-Shanleya's Quest: A Botany Adventure for Kids Ages 9 to 99
-Participating in Nature: Wilderness Survival and Primitive Living Skills
-Art of Nothing Wilderness Survival Video Series
-Classroom in the Woods: Primitive Skills for Public Schools



Ready for an Adventure? Join us!
Registration: How to Apply

Next: The Homesteader Experience
---
Dear Thomas,



My wife gave me Botany in a Day and Participating in Nature for my birthday in September.

Botany in a Day is a revolutionary approach in the way that way that you introduce the family concept for "non-botanists". I teach botany courses (identification, ecology, conservation, edible and medicinal uses, etc.) at the Rocky Mountain Biological Laboratory near Crested Butte, Colorado. I've taught college students, biologists, land managers, and vacationers. I always try to take the family approach. I think it is a great way to organize the taxonomy of things in one's head instead of just learning about a bunch of plants. This is obviously an old system in the technical resources, but your use of it in a field guide is great.



In Participating in Nature, I particularly like the way you combine your philosophy in a journal style with discussion of specific skills. I also like very much how you emphasize those skills or variations on skills that you have adapted on your own. It is clear that you have spent much creative time in the woods. I have been very much an observer and student of the land in the past 10 years, but it has really only been in the past few years that I am becoming a participant. For example, I have a masters in botany with an emphasis in plant taxonomy. So it is now that I am going back and saying, "Oh, I didn't know that was edible!" or "Dang, I can make rope out of this?". I thought I knew the plants of the Colorado Rockies pretty well, and then I started eating them and realizing that my learning had just begun. I am getting pretty decent with a bow-drill and I've tanned a few dozen hides. But I realize I have the knowledge of about an 8 year-old Cheyenne boy. I am getting better at accepting that tomorrow is another day.
--Kevin T.
Broomfield, Colorado