Green University® LLC Presents...
Dugout Canoe Two
Year of the Dugout Canoe
A Stone Age Living Experience
River Camp: Cardwell, Montana.
September 21, 2020 - September 20, 2021
Would you like to carve a tree into a canoe and join a six-week all Stone Age canoe expedition down the river? Now you can!



The Year of the Dugout Canoe begins September 21, 2020 at Green University's River Camp field site, covering many of the skills taught in the book Participating in Nature: Wilderness Survival and Primitive Living Skills. Participants in the year-long program will spend the fall and winter carving a new canoe while also tanning hides, sewing clothing, and outfitting themselves with full Stone Age gear for a six or seven week dugout canoe journey down Montana's Yellowstone River starting in late July of 2021.

Expedition leader Thomas J. Elpel enjoyed the privilege of carving his first dugout canoe in 2018 under the tutelage of Churchill Clark, the great-great-great-great grandson of Captain William Clark of the Lewis and Clark Expedition. Tom then led an expedition down the 2,341-mile Missouri River in 2019 from Three Forks, Montana to St. Louis, Missouri, as told in the book, Five Months on the Missouri River: Paddling a Dugout Canoe.
We now have access to a monster cottonwood log, 4 1/2 feet in diameter at the base, big enough to carve a well-matched sister canoe. The two dugout canoes will form the core of the fleet for the Stone Age journey down the Yellowstone River.


The Year of the Dugout Canoe largely follows the usual Green University schedule, with students enrolling for the yearlong Hunter-Gatherer Immersion starting with the fall -winter semester for classes and outings including Wild Rice Harvesting, Orientation and Work Projects, the Deer Processing Intensive, Fall Harvest and Celebration, Braintan Marathon, and Buckskin Clothing Intensive, while adding in Dugout Canoe Carving and focusing all preparations towards the ultimate goal of the Stone Age journey down Montana's Yellowstone River.

In addition to carving out the new canoe and making buckskin clothing, participants will process roadkill game, mostly deer, to preserve jerky, fat, and pemmican for the canoe adventure. Each person will also carve their own canoe paddle.

As the snow melts away in springtime, we'll have our Bison Tanning Class to tan buffalo robes for blankets, followed by our month-long Outdoor Education and Basic Skills Intensive where we share wilderness survival and nature awareness skills with public school kids through our sister program, Outdoor Wilderness Living School LLC (OWLS).



As appropriate throughout the year we'll work on basic Bird Mentoring and Tom's specialty, ongoing Plant Mentoring based on his best-selling book, Botany in a Day: The Patterns Method of Plant Identification. Over the course of the year, we'll take a number of pre-scheduled and unscheduled breaks from class time to get out for short walkabouts and canoe trips. We'll welcome summer and test out the new dugout canoe with our week-long semi-annual Upper Missouri Canoe Trip and Carp Hunting.

We expect to take a week off to paddle the Jefferson River Canoe Trail, camping and foraging along the way, while likely doing public service work for the Canoe Trail. We may also take a field trip for a two-week Botany & Foraging Intensive to an as yet undecided location to hone plant identification and foraging skills. And finally, anyone interested may join us on vacation for the week-long Wild Fruits Rendezvous to fill our bellies with feral aprictots and blackberries in Hells Canyon.


After ten months of preparation we will wrap up class time and launch our dugout canoes down the Yellowstone River for a six or seven week Stone Age paddling adventure.

We'll skip the whitewater of the upper Yellowstone and launch upstream of Livingston for a 540-mile journey across Montana to the river's confluence with the Missouri in North Dakota. Along the way we will camp, hike, and explore the surrounding countryside, while hunting rabbits and other small nongame animals. We'll forage our way down the river to supplement our previously prepared venison jerky, dried fruits, and pemmican, and anyone interested in fishing can bring handmade fishing line and hooks to fish on their own time. We'll be going full Stone Age, including stone knives, wooden bowls, friction fire sets, etc., so this is an excellent opportunity to leave modern amenities behind and fully immerse in and hone your ancestral skills.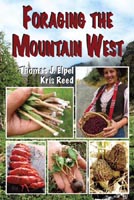 We'll launch in late July and paddle at the optimal time to harvest chokecherries and other wild edibles along the way, including wild grapes and probably wild plums downstream from the city of Billings, Montana, including many wild edibles detailed in Tom's book Foraging the Mountain West.

Exceptions to the Stone Age gear will include health and safety necessities, such as prescription eyeglasses, medications, a first aid kit, life jackets, plus cameras and journals for documentation, most of which will be camouflaged to blend in, such as buckskin bags to hide the first aid kit, cameras, and journals. Will you come join us for this once-in-a-lifetime opportunity? Click over to the Registration Page and sign up for the Yearlong Immersion program today!


Documentary Filming
Tom documented his previous dugout canoe adventure in a series of articles that were expanded and complimented by more than 700 photos for the award-winning travelogue, Five Months on the Missouri River: Paddling a Dugout Canoe. For the new Stone Age project, Tom is seeking collaboration to film a documentary series of the entire Year of the Dugout Canoe, including all preparation classes, practice outings, and the final Stone Age adventure on the Yellowstone River. In other words, participants should expect to be on camera for the entire year-long experience.


Like other people in the survival skills business, Tom has received countless casting calls from television studios seeking participants for reality survival programming, everything from Survivor to Wife Swap. These inquiries have largely become a nuisance as Hollywood production companies seek to fit survival skills professionals into pre-conceived boxes designed to play mind-games for television drama, and Tom has not yet found a suitable venue to participate in.

The Year of the Dugout Canoe is Tom's proposal for quality reality survival television, and we are seeking a production company interested in filming the ten-month preparation phase and six-week Stone Age adventure for a documentary series. We can make it work on a bootstrap budget, but we can do it better with real funding. Please contact us if you know people in the film biz that can help make this happen.


Covid-19
Students were prepared to come to Montana in the spring of 2020 when the state issued a shelter-in-place directive and closed nonessential businesses, effectively shuttering Green University LLC for spring semester. Going forward, we will continue to cooperate with all guidelines issued by the state of Montana. While the initial closure was effective as nearly eradicating Covid-19 from the state, it seems unlikely that the state will shut down again, even as we have a much larger second spike of coronavirus cases.

Overall, Montana is sparsely populated and somewhat insulated from the global pandemic, and River Camp provides an ideal venue to isolate together. Nevertheless, participants should be prepared for likely adjustments to mitigate risk of contagion, including possible quarantine restrictions on camp, limiting travel on and off the property. Actual policies and procedures will be determined on an as-need basis as the situation evolves.


No Drugs, Alcohol, or Tobacco
Green University&reg: LLC is a drug, alcohol and tobacco-free learning establishment. Our staff maintains a sober environment for individuals who are excited about nurturing a deeper nature connection. Anyone distracted with alcohol, tobacco, marijuana, or other drugs is not focused on learning or optimizing their experience at Green University® LLC. Therefore, we have a zero tolerance policy for drugs, alcohol, and tobacco in any form. Anyone violating this rule will be asked to leave. This is not a joke. Please read this paragraph again before signing up. Thank you.
Want to join the Year of the Dugout Canoe?
Register now for our year-long Immersion Program!
Prices are subject to change without prior notice.
Did you know?
Former Green University® LLC students
comprised the majority of the crew for the
Missouri River Corps of Rediscovery:



Five Months on the Missouri River
Paddling a Dugout Canoe