September 24 - October 1, 2020
Wild Rice Harvesting
with Thomas J. Elpel and friends | St. Maries, Idaho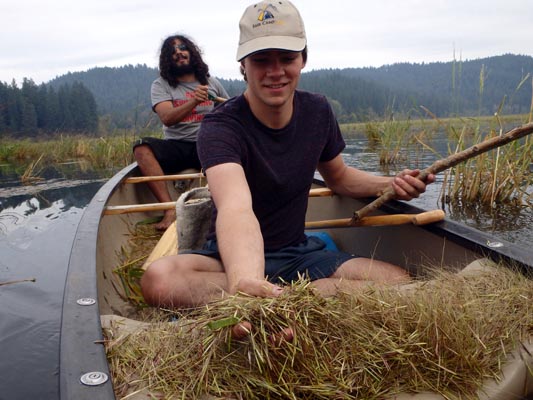 Wild rice in the wild West? Wild rice harvesting is an age-old tradition in the Great Lakes region, where the Ojibwe call it "manoomin," meaning "the food that grows on water." in the 1940s, wild rice seed was introduced to the southern end of Lake Coeur d'Alene in Idaho by duck hunters seeking to enhance waterfowl habitat. Wild rice grew abundantly, and is now found in many shallow lakes and marshes in the area. Join Tom Elpel and friends for an expedition to harvest a winter supply of this beautiful, delicious, and nutrient dense food!

We will head out on canoes with knocking sticks, paddles, and poles, filling the beds of our water vessels with carpets of sustenance. After the haul, we continue with drying, parching, dancing (its required/cool to separate the chaff), and winnowing, until at last we have the grain itself. We'll harvest together in appreciation and focus to deepen our connection with our food, food sources, and the natural world. Come bearing firewood, canoes, paddles, and poles if possible for this camp. Along with camping gear, bring food and other items needed for outdoor living, plus cash for campground fees and other expenses. Please Note: Dates are subject to adjustment, depending on ripening of the rice crop.

This event is a open to friends, family and Green University Immersion Students. Others wishing to participate, please send us a note to share a little about yourself, and what skills, knowledge, experience, or equipment you can contribute to the Circle.
Interested in more classes and events?
See our full schedule!
Looking for an extended immersion experience at a discount price?
Join us for a semester or a full year!