River Camp Knap-In
with Melvin Beattie and friends
Cardwell, Montana. April 19 - 23, 2018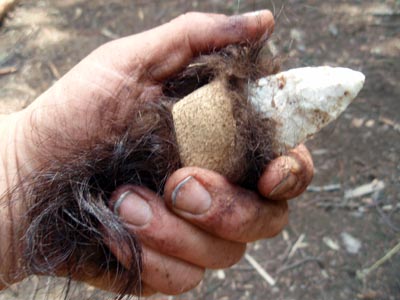 Hone your flintknapping skills! Join Melvin Beattie and friends for the River Camp Knap-In. Flintknapping is the ancient art of crafting arrowheads, knives, and axes from fine-grained stone. Learn how to strike flakes off a core and shape those flakes into points and tools!

This is a primitive camp. Please come self-contained with a tent or camper, plus food and cooking supplies, etc. We'll have a potluck dinner Saturday afternoon. Drinking water and an outhouse are available on site. If you have space, please bring a little firewood to contribute to the communal fire. Also bring your tarps and chairs and any rock that you want to share.

Come prepared for any kind of weather. Springtime in Montana can vary from sunny and warm to cold, windy, and snowing. The earthlodge onsite provides all season comfort to get out of the elements as needed. This event is open to invited guests and all Green University® students. Learn more about our immersion program.
Interested in more classes and events?
See our full schedule!
Looking for an extended immersion experience at a discount price?
Join us for a six-month semester or a full year!