Green University® LLC Presents...
Birding and Bird Language
Bird Mentoring for Beginning Birders
All year long at Green University® LLC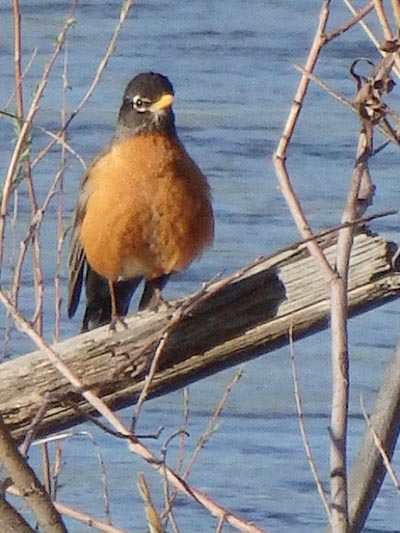 The best way to learn bird identification and bird language is to team up with a knowledgeable guide, a interested friend, or a community of people sharing common interests. The Bird Mentoring program at Green University includes all the above and more.

Bird identification can be especially intimidating starting out. With no prior experience, how do you identify a brown-grey streak of fluff darting through the bushes? Why does it matter anyway? At Green University, immersion students have the opportunity to share observations in discussion with fellow students and staff members, collectively working through field guides to crystalize mysterious passersby into recognizable species and neighbors.

Bird language quickly follows bird identification. Bird language is much like paying attention to one's own dog to know who or what is passing by according to its bark or the wag of its tail. For example, listening to the shrill bark of robins can identify the location of an owl or other predatory bird. Hearing a scolding house wren in the yard can identify a passing cat.


These are very basic bird language calls, and we at Green University cannot claim to be experts at either bird identification or bird language. That's why we've partnered with Kristi Dranginis, founder of Bird Mentor, to give you the Advanced Skills for Beginning Birders master course as part of your enrollment in the Green University. With the Advanced Skills course you receive a step-by-step guided learning model that will help deepen your knowledge of birds and the natural world with curriculum that builds on itself the deeper you go. Each module is packed with lessons, videos, activities, and resources about bird size, shape, posture, behavior, field marks, habitat, sound, and bird language.

Each week you will have the option to participate with Kristi in a weekly mentoring phone call with bird nerds from across the country to share notes, ask questions and to learn from everyone's combined experiences. Click here to see all that you'll get with the course.

From a survival skills standpoint, birding may seem relatively unimportant compared to fire-starting, shelter-building, or hunting skills. Yet, bird language is perhaps one of the most essential survival skills. Through bird language, you can learn to better sense the presence of wild animals even before you see them. More essentially, you can learn to avoid triggering bird alarms yourself, to avoid scaring away potential game when hunting. Most importantly, birding helps build a deep nature connection, enabling the individual to participate in nature and become part of the process, rather than just a noisy tourist passing through!

The year-long Bird Mentor program is included free for immersion students at Green University. We will also participate in occasional bird walks with guides from the local chapter of the Audubon Society. Join us starting at the spring or fall semester!
Interested in more classes?
See our full class schedule!
Looking for an extended immersion experience at a discount price?
Join us for a six-month semester or a full year!